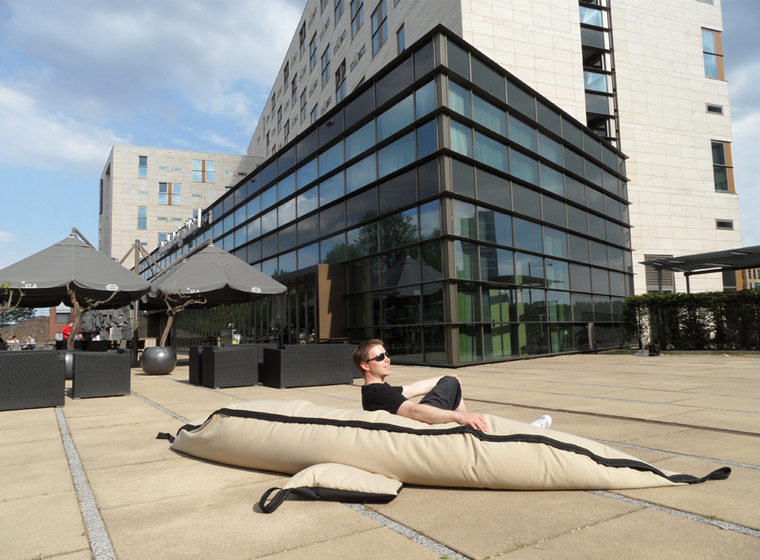 Strandzak Terrace version
May 2011 Studio Danckmer has developed a new version of Strandzak.
This terrace version is lighter and more comfortable than the beach version because he is partially filled with EPS-pearls. Also the terrace version may lie outside thanks to a waterproof bag inside.
There are also cushions added so you can comfortably sit on the terrace floor.
Strandzak Terrasvariant
In mei 2011 heeft Studio Danckmer een nieuwe variant van Strandzak ontwikkeld.
Deze Terras- en Tuinvariant is lichter en comfortabeler dan de oorspronkelijke Strandzak doordat hij deels is gevuld met EPS-parels. Ook deze terrasvariant kan buiten blijven liggen door de toepassing van een waterdichte binnenzak.
Daarnaast zijn er ook zitkussens toegevoegd zodat je comfortabel op de terrasvloer kan zitten.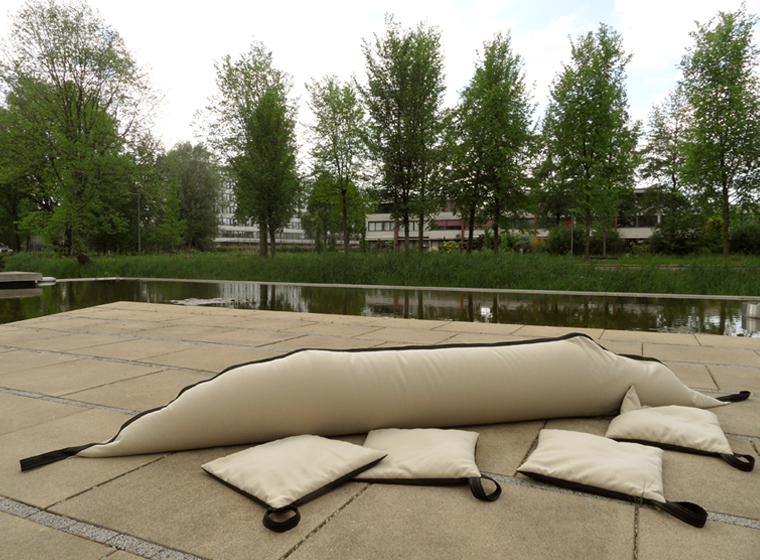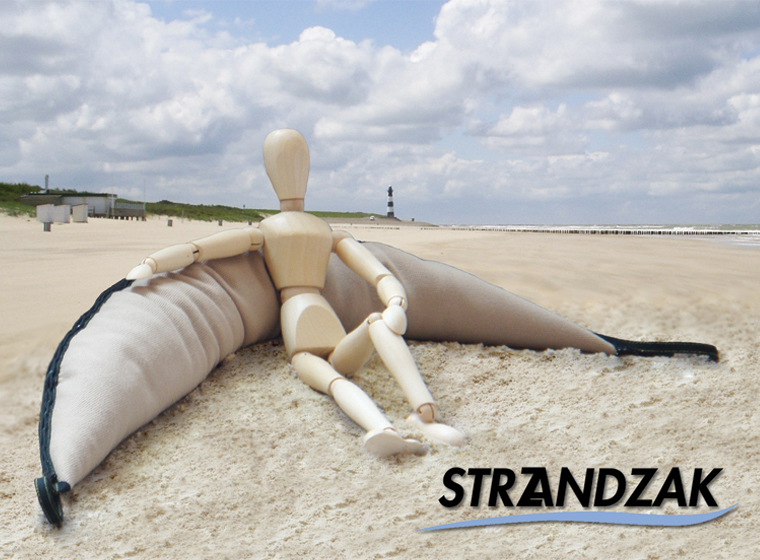 'Strandzak' beach furniture is made of soft but strong fabric bags filled up with sand. Together they form solid elements to lay and seat on.
The 'sand dunes' with a natural, rugged appearance are closed at the top of the bag with firm fastening loops. These loops can also clamp the tops of your towel for extra comfort.
'Strandzak' is strandmeubilair dat bestaat uit zakken van zachte maar sterke stof die gevuld worden met zand. Samen vormen zij stevige lig- en zitelementen.
Lekker om alleen, met familie of vrienden op of tegenaan te zitten.
De 'zandduinen' met een natuurlijke, robuuste uitstraling hebben aan de bovenzijde van de zak een stevige sluiting met lussen waar je ook de punten van je baddoek onder te klemmen voor extra comfort.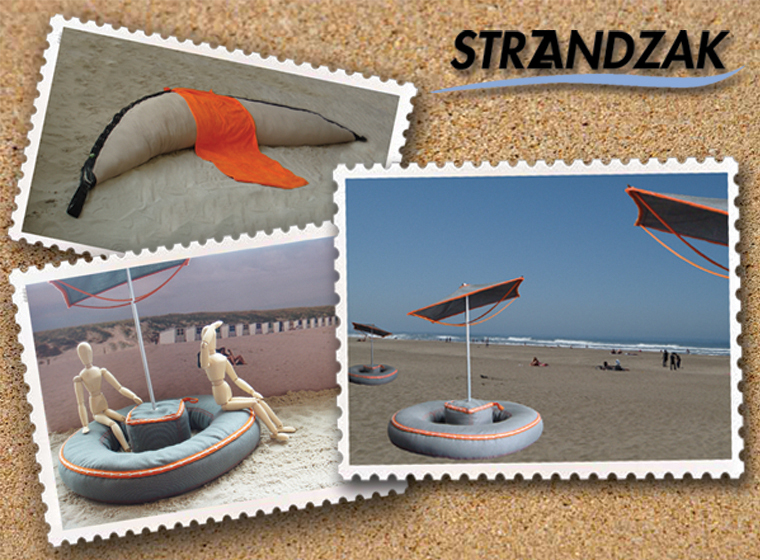 The second set has more cultivated, geometric forms and a fresh and active look with striking colour accents. You can take place, for example for a drink, eat fries and ice cream and you don't have to sit in the sand anymore.
Beach holders can and fill the bags at the start of the season. Thanks to the weight and the material of Strandzak they can remain on the beach throughout the summer season.
After the summer season, the bag opened, emptied and stored, to use in the following years. By using sand that is present, the transport of the furniture is minimized so it is an ecological friendly product.
Strandzak fits in any place where people enjoy the sun and sand! These additional facilities on the beach will attract more happy visitors.
At the moment Studio Danckmer is busy designing an outdoor version, not only for on the beach.
Let the summer begin!
De tweede reeks heeft meer gecultiveerde, geometrische vormen en een frisse, actieve uitstraling met opvallende kleuraccenten. Hierop kan je plaatsnemen om bijvoorbeeld een drankje, ijsje of patatje te eten en hoef je er niet meer mee in het zand te zitten.
Strandtenthouders kunnen ze aan het begin van het seizoen vullen en door het gewicht en materiaal van Strandzak kunnen zij het hele zomerseizoen blijven liggen.
Na het zomerseizoen wordt de zak opengemaakt, leeggegooid en opgeborgen, om het volgende jaar opnieuw te vullen. Door gebruik te maken van zand dat aanwezig is wordt het transport van het meubilair geminimaliseerd en is het een ecologisch verantwoord product.
Strandzak past op elke plek waar mensen genieten van zon en strand! Deze extra faciliteiten zullen een groter publiek aantrekken.
Op dit moment is Studio Danckmer bezig met het ontwerp van een versie die niet alleen bedoeld is voor op het strand.
Laat de zomer maar komen!