Cardboard products
After my graduation I have specialized myself in making cardboard products and working with this beautiful and eco-friendly material
Not all my new and sometimes still in the prototype-fase products are being showed on this website, but if you have a nice idea or maybe a assignment you can always contact me and you are very welcome at my studio!
Kartonproducten
Ik heb mij gespecialiseerd in het maken van kartonproducten en het werken met dit mooie en duurzame materiaal
Lang niet alle nieuwe en soms nog in de prototype-fase zijnde producten staan op deze site, maar als u een leuk idee heeft of misschien wel een mooie opdracht kunt u altijd contact met mij opnemen en bent u uiteraard van harte welkom in mijn studio!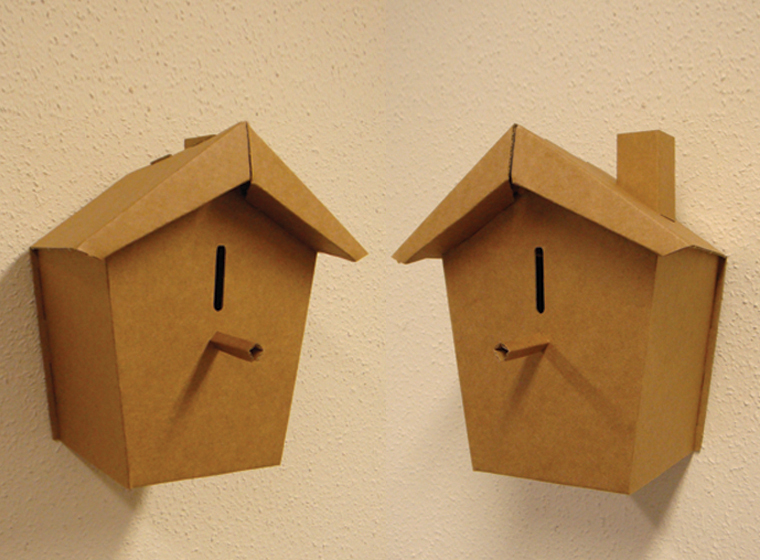 Vogeldhuisje
This is the Vogeldhuisje. This piggy bank you put together yourself. You can paint it, draw on it and stick wallpaper on in. Make your piggy bank extra nice!
You can send Vogeldhuisje like an envelope and also put letters or a magazine in between. With Vogeldhuisje receiving and sending mail is so much fun!
You can order the Vogeldhuisje in the webshop of the "Kartonwinkel" in Eindhoven or at one of the stores at the link page.
For additional information, resale or for ordering bigger amounts, please contact me.

Vogeldhuisje
Dit is het Vogeldhuisje. Dit spaarpotje zet je zelf in elkaar. Je kunt het beplakken, er op tekenen en beschilderen. Maak je spaarpot extra mooi!
Het Vogeldhuisje is prima te versturen als enveloppe waar je ook nog brieven of zelfs een tijdschrift tussen kan stoppen. Zo wordt post ontvangen en versturen extra leuk!
Je kunt het onder andere bestellen via de webshop van de Kartonwinkel in Eindhoven of bij een van de winkels op de links pagina.
Neem voor extra informatie, verkoop of het bestellen van grotere aantallen gerust contact met mij op.