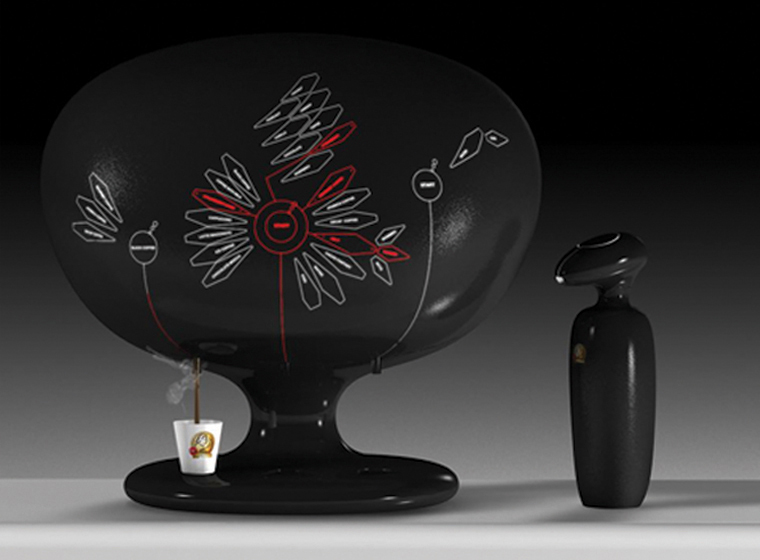 LIQUID GRANDE
In 2007 I did, with three other students, a big project for Douwe Egberts Cafitesse.
CAFITESSE
Liquid Grande is the new solution from Douwe Egberts for Hotels, Lounges and Airports. It has a modular furniture system to make it perfectly customized for every business. As its predecessor it provides the same peak performances and quality. Its a new, stunning and beautiful addition to the world of Douwe Egberts.
LIQUID GRANDE
In 2007 heb ik samen met drie andere studenten een groot project gedaan voor Douwe Egberts Cafitesse.
CAFITESSE
Liquid Grande is de nieuwe machine van Douwe Egberts voor hotels, lounges en vliegvelden. Het is een modulair systeem, perfect aan te passen aan elke manier en plaats van gebruik. Hij biedt dezelfde prestaties en kwaliteit als zijn voorganger in een compleet nieuwe vorm met meer mogelijkheden. Het is een mooie aanvulling op de wereld van Douwe Egberts.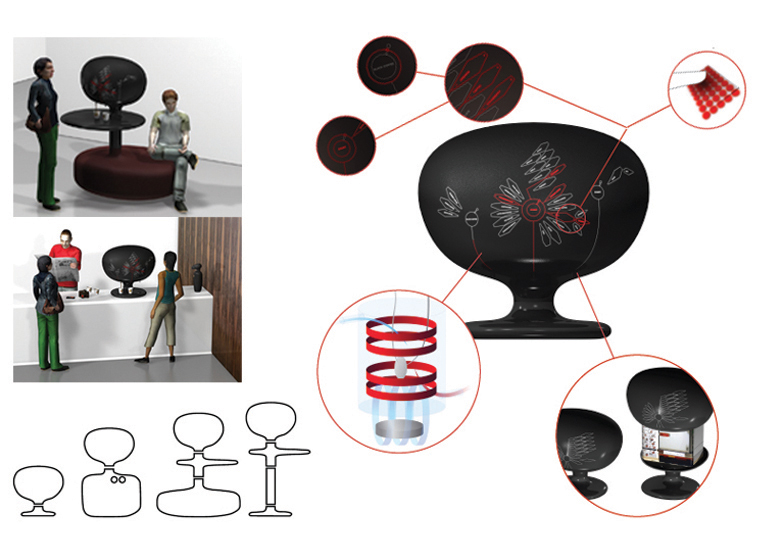 MODULAR FURNITURE
The machine has several options for modular furniture, turning the space around the machine to a nice social place.
DISPLAY
The multi touch interface uses a bidirectional LED display that allows emitting light and senses touches at the same time.
HEATING
Introducing an induction element for the heating process. Limes kale is settling on a heating chain, which can be easily replaced and cleaned.
REFILL
Refilling the machine is easy by lifting the complete top and there are no seams that become dirty.

Modulaire meubels
De machine heeft verschillende modulaire meubels, zo wordt de ruimte rond de machine een leuke sociale plek.
DISPLAY
De multi-touch interface maakt gebruik van een bi-directioneel LED-display dat licht uitstraalt en op aanraking reageerd op hetzelfde moment.
VERWARMING
De invoering van een inductie-element voor het verwarming proces. Kalk kan zich afzetten op de verwarmings-ketting, die gemakkelijk kan worden schoongemaakt of vervangen.
HERVULLEN
Het navullen van de machine is eenvoudig door het liften van de complete top, er zijn daardoor geen naden die vuil kunnen worden.
USER INTERFACE
The graphic of the interface is designed as a growing pattern. Try it now! And be careful that you don't spill the coffee.
Gebruikersinterface
De interface is ontworpen als een groeiend patroon om op een overzichtelijke manier eindeloos te kunnen proberen. Probeer het nu!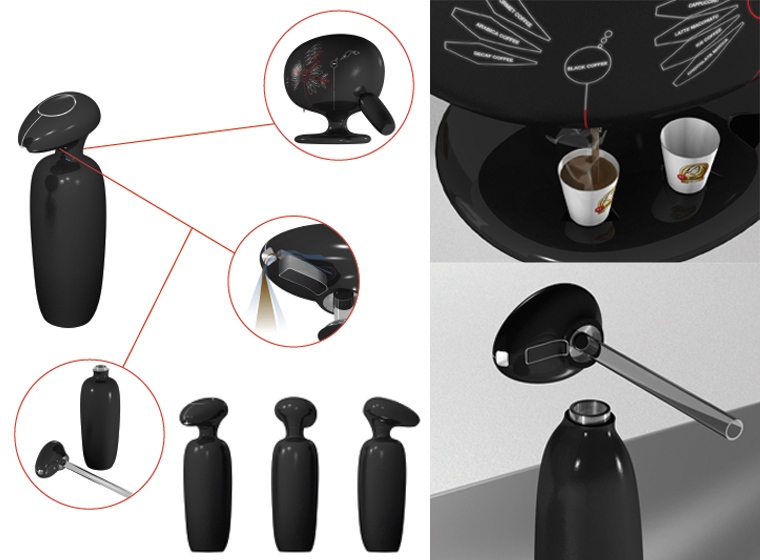 DOCKING
The pod connects to the main machine for refilling hot water.
CARTRIDGE
A liquid coffee concentrate cartridge slots in under the nozzle. The fresh coffee is mixed with the hot water when pouring into the cup. This makes it to a smart innovation in the field of mobile coffee.
HANDELING
The liquid thermos unscrews for refill of water, and access to the cartridge.

This project and other projects for Douwe Egberts and Sara Lee are now showed around the world.
DOCKING
De thermosfles wordt aangesloten op de machine en wordt dan gevuld met heet water.
CARTRIDGE
Onderin het pijpje van de thermosfles zit een vloeibare koffie concentraat cartridge. De verse koffieconsentraat wordt gemengd met het warme water bij het gieten in de beker. Deze slimme innovatie op het gebied van mobiele koffie maakt dat elk kopje koffie kraakvers is.

Dit project en andere projecten voor Douwe Egberts en Sara Lee zijn nu toonde de hele wereld.