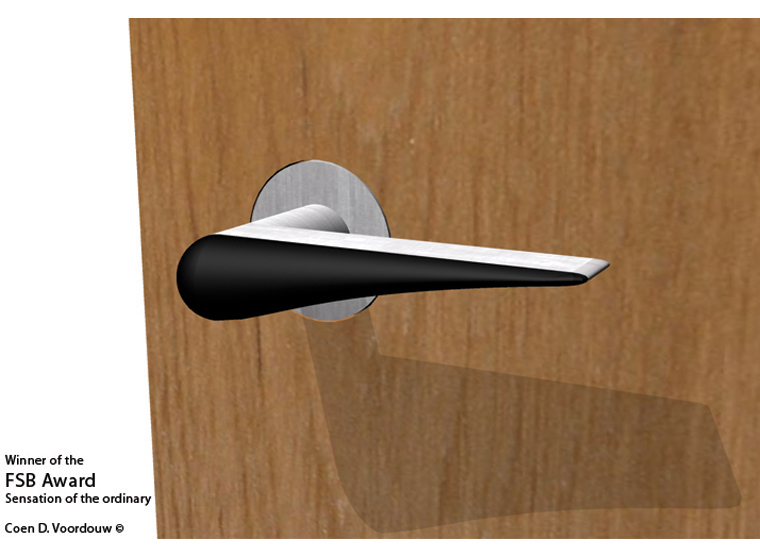 'Stern'
The idea behind the design is that doors are usually opening in the direction of a wall. In this case a door stop is required to ensure that the door don't swings against the wall and damage it. Often a door stopper represents a disturbing object on the wall or on the ground.
In this design, the doorstopper is incorporated into the handle. The design has movement in it. The handle is made of aluminum with a brushed finish. The rubber is integrated into the aluminum base, seamlessly with the outer shape.
The color of the rubber can be matched to the space in which Stern is applied.
'Stern'
Het idee achter het ontwerp is dat deuren vaak in de richting van een muur open draaien en dat er in dat geval een deurstopper nodig is om te voorkomen dat de deur tegen de muur aan zwaait en deze beschadigt. Vaak komt zo'n deurstopper neer op een detonerend extra voorwerp op de muur of op de grond.
In dit ontwerp is de deurstopper op een natuurlijke manier in de deurkruk opgenomen. Het ontwerp heeft beweging in zich, strak en vloeiend. De deurkruk is gemaakt van aluminium met een geborstelde afwerking. De rubberen vorm zit voor een deel in het aluminium en sluit naadloos aan op de buitenvorm.
De kleur van het rubber kan afgestemd worden op de ruimte waarin Stern toegepast wordt.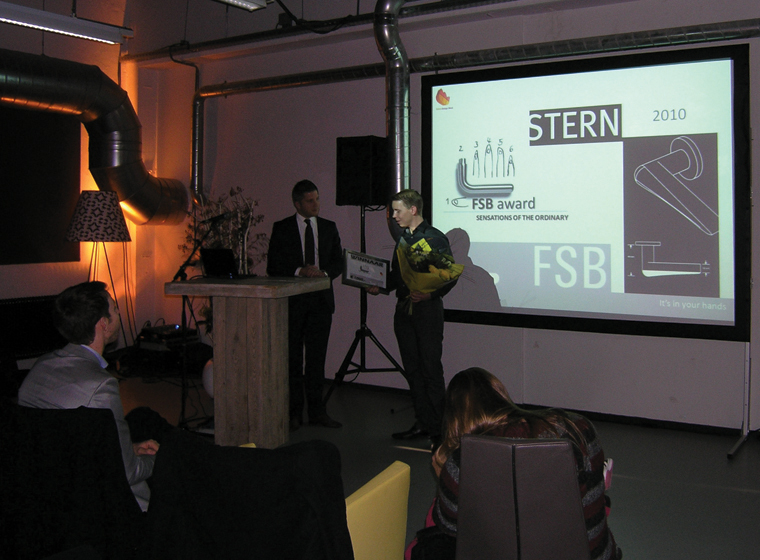 Coen D. Voordouw wins the FSB Award Sensations of the Ordinary
The Dutch designer Coen D. Voordouw won the FSB Award with his door handle 'Stern'. On the last day of the Dutch Design Week in Eindhoven, he was awarded. The prize of 1000 Euros was given by Rene Wolken, producer FSB.
FSB has organised a contest for all designers all over the world to design a doorhandle. The purpose of the competition was to give young designers a chance to show their talents. The competition had three important criteria: design, ergonomics and materials. It was important that the designed handles have a strong identity, but also a timeless and contemporary character.
The open competition provided dozens of entries from around the world. The designs of the five nominees were developed in a Rapid Prototype model and will be displayed during Dutch Design Week in the Klokgebouw.
Coen D. Voordouw wint FSB Award Sensations of the Ordinary
De Nederlandse ontwerper Coen D. Voordouw won de FSB Award met zijn deurkruk-ontwerp 'Stern'. Op de een na laatste dag van de Dutch Design Week in Eindhoven kreeg hij de prijs ter waarde van 1000 euro overhandigd, door René Wolken van producent FSB.
FSB heeft de ontwerpwedstrijd georganiseerd voor alle ontwerpers in binnen- en buitenland met als opdracht het ontwerpen van een deurkrukmodel. Doel van de wedstrijd was om jonge ontwerpers een kans te geven hun talenten te tonen. De ontwerpwedstrijd van FSB stond in het teken van enkele belangrijke voorwaarden, namelijk vormgeving, ergonomie en materiaal. De ontworpen deurkrukmodellen dienden individualiteit uit te stralen maar toch een tijdloos en modern karakter te hebben.
De open competitie leverde tientallen inzendingen uit de gehele wereld op. De ontwerpen van de vijf genomineerden zijn uitgewerkt in een Rapid Prototype model en worden tijdens Dutch Design Week geëxposeerd in het Klokgebouw.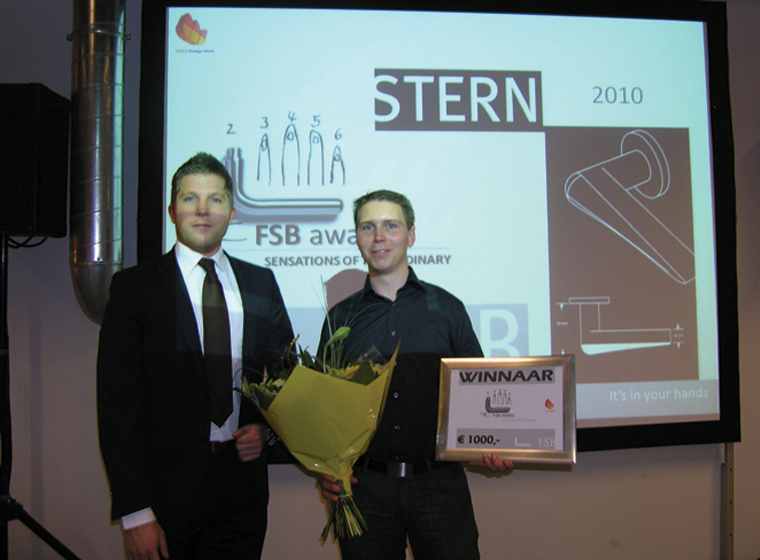 Unanimous decision
From all submissions, five nominees were selected. The designs were submitted to a jury composed of several specialists in the field of architecture and design: Francesco Veenstra (Architect, Mecanoo Architecten), Harmut Weise (designer, FSB), Marit Overbeek (editor Interior, De Architect) and Marijn van der Poll (Curator Dutch Design Week and designer).
The jury was unanimous in its assessment. They praised Voordouw for the design of the handle and the innovative idea of a rubber insert in the handle, which creates an integrated door stopper.
The nominees also received an invitation for a visit to the FSB-plant in Germany.

Click here for the press release from 'the Architect'
Unaniem besluit
Uit alle inzendingen zijn uiteindelijk een aantal genomineerden gekozen, die zijn voorgelegd aan een vakjury. Deze vakjury bestaat uit enkele specialisten op het gebied van design en architectuur: Francesco Veenstra (Architect, Mecanoo Architecten), Harmut Weise (Ontwerper, FSB), Marit Overbeek (Vakredacteur Interieur, De Architect) en Marijn van der Poll (Curator Dutch Design Week).
De vakjury was unaniem in haar beoordeling. Ze roemde het ontwerp van Voordouw vanwege het design van de deurkruk en het innovatieve idee om in de deurkruk een rubberen inzet te verwerken, waardoor een geïntegreerde deurstopper ontstaat.
Alle vijf genomineerden zijn uitgenodigd voor een bezoek aan de FSB-fabriek in het Duitse Brakel.

Klik hier voor het persbericht uit 'de Architect'