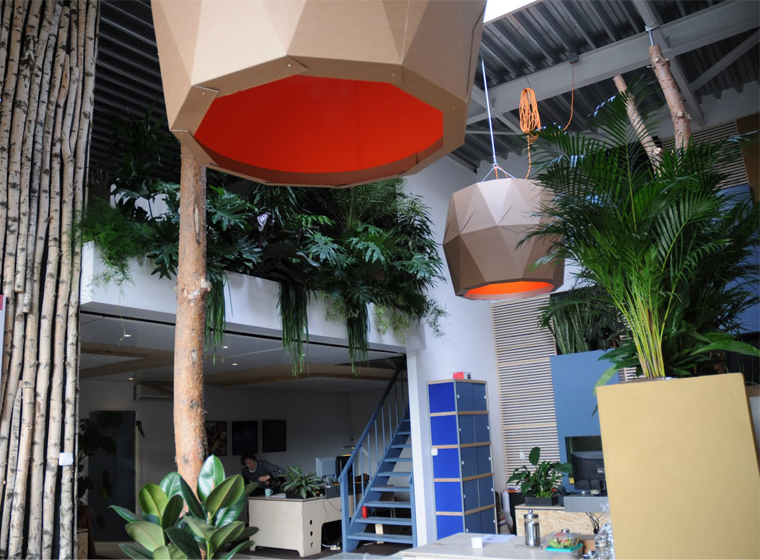 Groene Kantoortuin
The 'Green OfficeGarden' is a workspace for different companies and shows that it is possible to opt for the latest innovations in the field of climate ceilings, heatingwalls, sustainable cradle-to-cradle carpet, LED lighting and environmentally friendly inks. It is full of plants, all of various pollutants for cleening the air.
Studio Danckmer has made two great lights (over 1 meter in diameter and hight!) of recycled cardboard for the 'Groene Kantoortuin'.
Groene Kantoortuin
De Groene Kantoortuin is een werkplek voor verschillende bedrijven en laat zien dat het mogelijk is te kiezen voor de nieuwste innovaties op het gebied van klimaatplafonds, warmtemuren, duurzame cradle-to-cradle-vloerbedekking, LED-verlichting en milieuvriendelijke inkt. Het staat vol met planten, die allen verschillende schadelijke stoffen uit de lucht zuiveren.
Studio Danckmer heeft voor de Groene Kantoortuin twee enorme lampen gemaakt (ruim 1 meter doorsnede en hoog!) van gerecycled karton.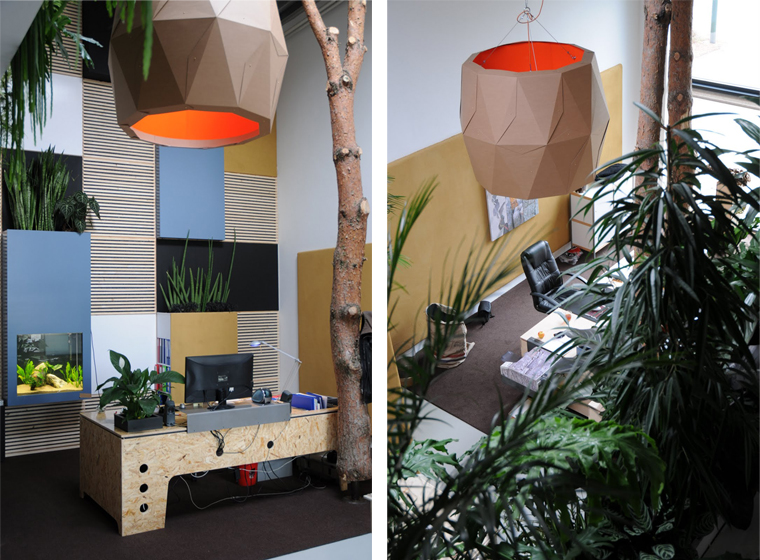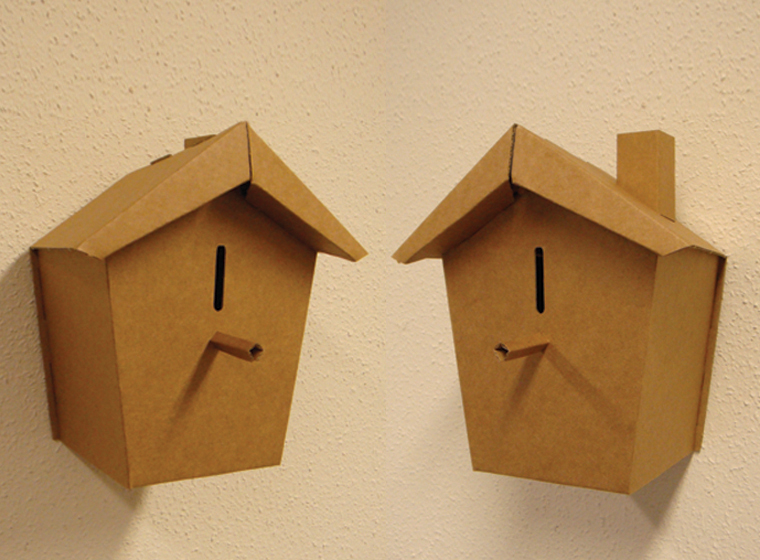 Vogeldhuisje
This is the Vogeldhuisje. This piggy bank you put together yourself. You can paint it, draw on it and stick wallpaper on in. Make your piggy bank extra nice!
You can send Vogeldhuisje like an envelope and also put letters or a magazine in between. With Vogeldhuisje receiving and sending mail is so much fun!
You can order the Vogeldhuisje in the webshop of the "Kartonwinkel" in Eindhoven or at Design Daily's.
For additional information, resale or for ordering bigger amounts, please contact me.

Vogeldhuisje
Dit is het Vogeldhuisje. Dit spaarpotje zet je zelf in elkaar. Je kunt het beplakken, er op tekenen en beschilderen. Maak je spaarpot extra mooi!
Het Vogeldhuisje is prima te versturen als enveloppe waar je ook nog brieven of zelfs een tijdschrift tussen kan stoppen. Zo wordt post ontvangen en versturen extra leuk!
Je kunt het onder andere bestellen via de webshop van de Kartonwinkel in Eindhoven of bij Design Daily's.
Neem voor extra informatie, verkoop of het bestellen van grotere aantallen gerust contact met mij op.